Wendy's burger franchise has been busy undergoing change recently. New menus, modernized look and feel, updated uniforms and logo transformation are all part of the more traditional aspects of fast food franchise renovations. The big change this time, however, is Wendy's online. Wendys.com is like Cinderella at the the ball. The transformation is astounding.
Wendy's Has Got Game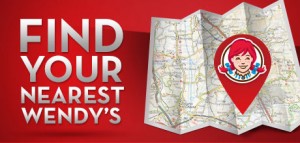 The new website is fresh, responsive and most importantly, functional.  If you are a Wendy's fan looking for lunch in a new city, worry no more. The GPS locator will find the closest location to you. Need a job? There's a career section to get you that all important paycheck. Health conscious? You can now mix and match your meal on your smart phone and have the nutritional information updated as you decide. It is hard to ignore that health is a large piece of the brand update. Kudos to Wendy's for realizing that functionality and customer value is key.
Look and Feel of Pinterest
Big, bold, beautiful images fill the page. Each with a clear message or call to action just waiting for your tap or your click. It is a dream to navigate, making this clean, visually appealing website usable on any platform.
Let's Get Social
In line with the times, Wendy's has incorporated plenty of social media functionality on the new site as well. Twitter, Facebook and Instagram are available to encourage the customer to engage with the Wendy's brand when and where they want.
Compare www.wendys.com to www.mcdonalds.com and there is no doubt who comes out on top for usability and value to the customer. In my opinion, Wendy's did a fantastic job of putting the customer's needs first. The new site is a terrific blend of promotional products and customer incentives presented in a clear, easy to use interface, across multiple platforms.
Nice job guys.