Did you know that 96% of consumers will leave your website before converting? Moreover, 49% of your customers will visit your site two to four times before they show you the money? So how do you ensure they actually do return – and cross the finish line to purchasing?
Remarketing. Retargeting. Remessaging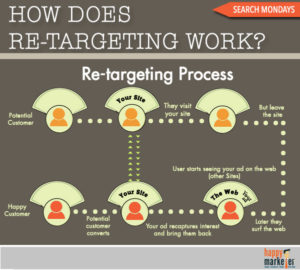 While your clever marketing tactics may have brought customers to your website in the first place, remarketing brings them back to convert their visit into a sale. How does remarketing work? The short version: by adding a piece of Google remarketing code to pages of your website, Google tags visitors through their browser cookies and can then serve up relevant ads to those people based on what they viewed on your site.
Search and Display Remarketing allows the hyper-targeting of visitors who have already visited your site with the use of ingeniously crafted, placed, timed and even personalized banner ads showing them what they are missing out on. Reminders of items abandoned in shopping carts; suggestions showing customers items similar to those they were just viewing on your site; or even a 'Thank you' ad, showing them further items to compliment their recent purchase.
Want to find out how you can retarget potential customers? Talk to us today – we can help you hit the bullseye!