Local Search Is Important
Do you have a local business and want your customers, or potential customers, to be able to find you? Then Local Search must be important to your business.
Between Google My Business, Bing Local and every other mega data aggregator (or citation) sending information around the web, it's critical your business information is clear, concise and accurate.
Citations & Your Business
A citation is any mention of your business out there in the great, worldwide web, with or without a link to your website. For example, a citation might be an online yellow pages directory where your business is listed, a listing on your local chamber of commerce pages or local business association page, or even a popular review site or blog. Yelp, Yellow pages, Infotel, Tripadvisor … you get the picture.
Why should you care?
Citations are a key component of the ranking algorithms in search engines like Google, helping search engines confirm that businesses "are who we thought they were". In fact, mentions and links from these kinds of websites can dramatically improve your local search engine rankings.
What should you do about it? Contact us to clean house and make sure your details are updated. We can get you found by making sure your business is in all the right places, at the right time, with the right information.
Map Pack Visibility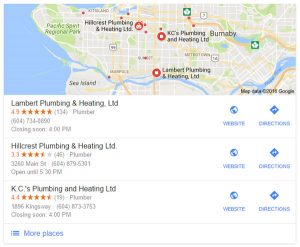 Google's Map Pack is often presented in search results for local businesses. It's important that your business shows up if you want a piece of the search pie.