With trends in digital marketing changing rapidly, it is important to stay up to date to ensure marketing efforts remain effective. While we would all love it if it was as simple as going "Hey Alexa, how do I improve my digital marketing in 2020?" it isn't quite that easy, but our team at the Web Advisors can ensure that you are prepared for the exciting world of digital marketing in 2020.

#1 Voice Search
At a 2016 Google I/O keynote speech, Google CEO Sundar Pichai announced that 20% of searches on its mobile app are done using voice-activated search. ComScore estimates that in 2020, 50% of all searches will be voice searches! With smart speaker sales like the Amazon Echo and Google home increasing, this trend cannot be ignored. So, how do you optimize your organization for voice search?
Being No.1 in the search engine results page (SERP) is not always good enough with voice search. Companies should strive for position zero, a featured snippet of text appearing above the search results. This snippet provides information that is related to the search query and provides a link to where the information is drawn from. Google will use position zero as the response for its "one true answer" response to voice searches. However, Google recently rolled out a deduplication update which means if you do have the coveted position zero, your URL will not show up again in the Organic results further down the page. This may impact the click-through rate to your site, so do consider if your brand is more important than clicks!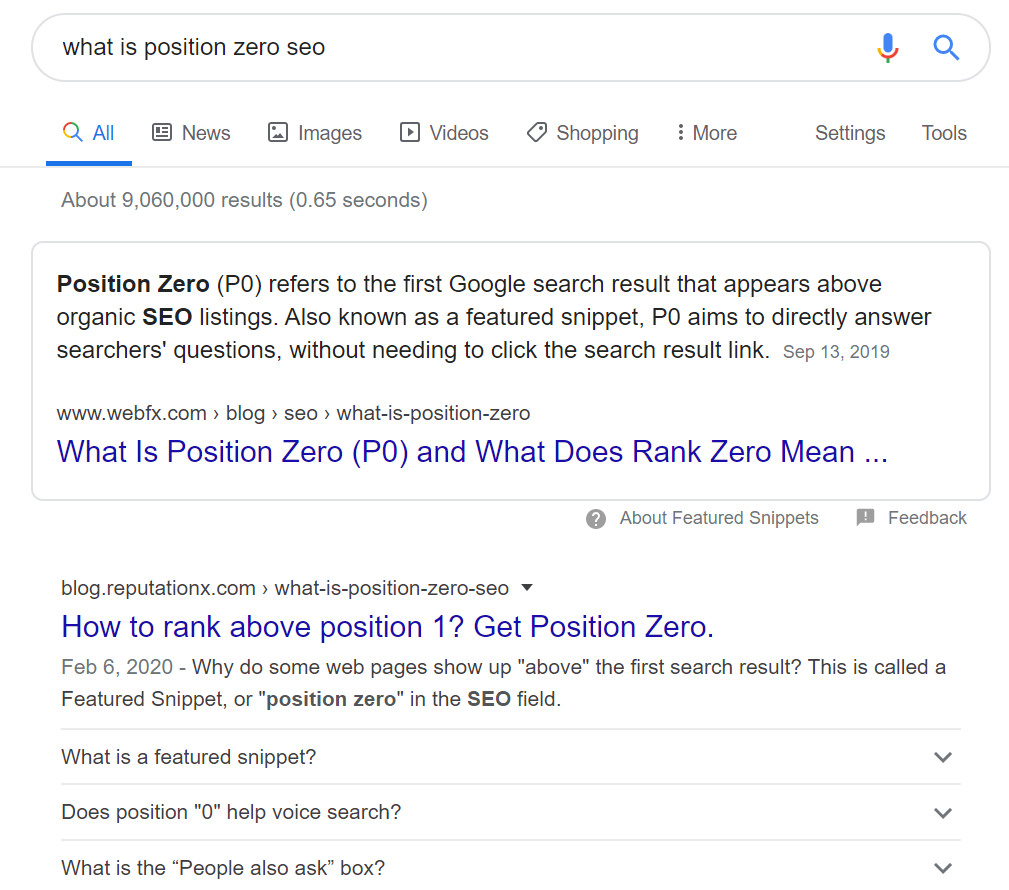 On average, voice searches are considerably longer than text searches and using long-tail keywords that are specific, and focused on answering a particular question will vault you towards position zero. Another strategy is to write more local content. A study by Brightlocal found that "58% of consumers used voice search to find information on a local business in the last 12 months" and the effectiveness of this content can be improved by:
Including city-specific keywords
Keeping content conversational: including mention of a current event or promotion
Updating all local details: hours of operation, specials, phone number, and address.
By writing content that is specific, local, and consistent you will make it easier for customers to find the information they want while also optimizing for voice search.
#2 Shoppable Posts
We don't need to tell you that social media is a vastly important tool in your online marketing toolbox. However, you may be surprised to know that 60% of Instagram users say they discover new products on Instagram. Additionally, 75% of users are doing something after they watch an Instagram ad. Users are interacting with a brand, they're visiting their website, they're looking at the brand's Instagram profile, and they're watching the brand's stories.
Many social media platforms have taken note and they are making it easier for customers and businesses to sell directly through their channel. Instagram, Facebook, and Pinterest all have integrated e-commerce stores that incorporate shoppable posts. Using Instagram as an example, when a photo appears on your screen you can tap the photo and the name of the product, the price and a link to the website shows. According to Instagram, each month over 130 million people tap to reveal product tags! Instagram recently started testing the ability for shopping businesses to run their existing shopping posts as ads in Ads Manager, while also introducing Checkout allowing users to make a purchase without ever leaving the Instagram app. By utilizing this form of social commerce, you reduce barriers to purchase while also reaching new customers and shortening the sales funnel.

#3 Interactive Content
According to Demand Gen Report's Content Preferences Survey, 91% of buyers are looking for more interactive content online. Thus, marketing efforts must shift to ensure people get what they desire. Technology like augmented reality and 360-degree video have left many wondering if interactive content is unobtainable for smaller businesses. However, there are other strategies that can be used such as quizzes, polls, and interactive contests which can be done with a smaller budget.
Why is interactive content so important in 2020?
The content is fun and original, helping it stick out.
Higher participation (engagement) creates deeper relationships and brand loyalty
It increases the time visitors stay on your page.
The content is different, which makes it shareable. This engagement and shareability lead to increased brand awareness.
#4 Social Messaging Apps
Social messaging apps like WhatsApp, Facebook Messenger, and the Google My Business app are popular ways for customers and businesses to communicate. For example, Facebook Messenger sees over 20 billion messages exchanged between individuals and businesses each month. A recent study by Nielsen showed that 56% of people would rather message a business than call customer service! Of the respondents more than half stated they were more likely to shop with businesses they could message directly. To account for this, Facebook recently released "Icebreaker" which will enable businesses to provide a listing of common questions that users can ask via message.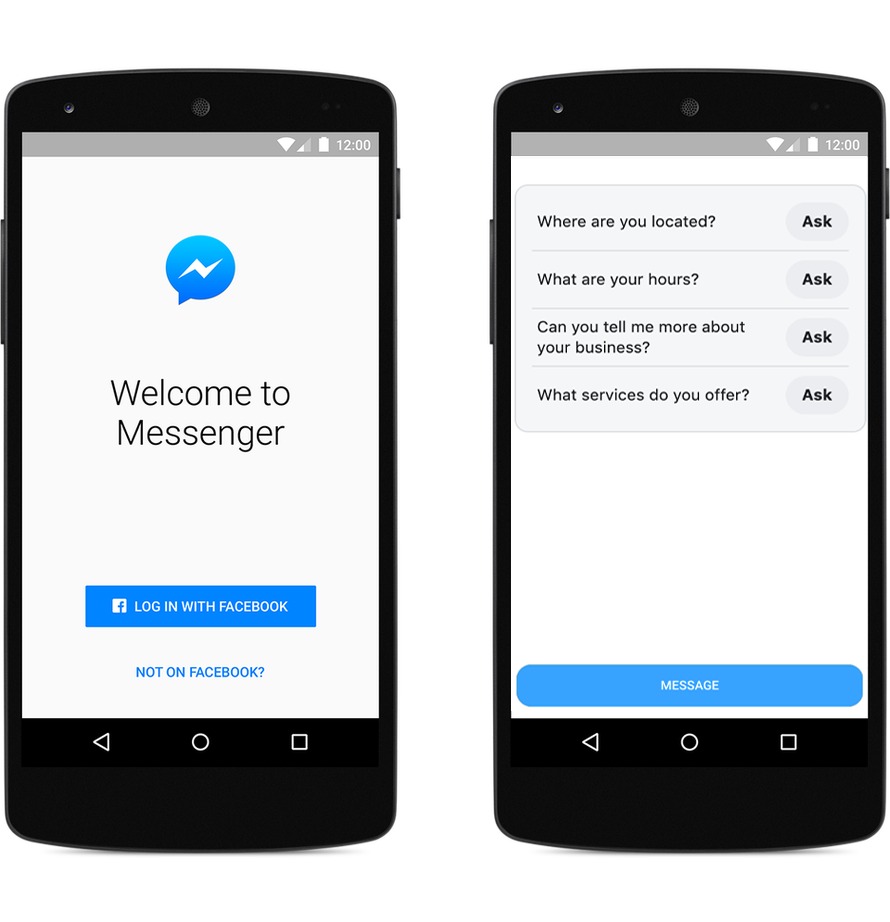 Similarly, Google allows you to message consumers through the Google My Business app. Once messaging is turned on, customers will see a "Message" button on your Business Profile on Google. You will receive notifications about incoming messages and you can even customize an automated welcome message that customers receive when they message you! Be sure to reply to messages within 24 hours or Google can deactivate messaging for your business.
With consumer demand high, social messaging apps should be utilized as it allows for extremely personalized marketing and it creates a convenient direct channel between consumer and business. While messaging apps can improve efficiencies in customer service, you must provide the same level of service as you would through traditional customer service mediums. If you send consumers a timely, personalized, and helpful message you will create loyalty and this person is now far more likely to make a purchase with you.
Now that you understand why you should use social messaging, here are a few ways businesses can best utilize it:
Establish rapport and build contacts
Educate customers
Invite people to events
Provide customers support
#5 Local Optimization for Small Businesses
Local results appear when people search for businesses that are near their location. These results are shown in multiple locations across search and maps. For example, if you search "golf courses" Google will show you relevant golf courses that are nearby. Google determines local results based primarily on relevance, distance, and prominence.
You can improve your business's local ranking by using Google My Business. Your first step is to claim and verify your listing. Even if you already have a profile, Google is continually updating and adding new features. While local optimization is nothing new, here are some helpful tips to properly optimize for local search.


Update Business Information
Local search favours the most relevant results. If a business has complete and accurate information it is more likely to match with the right searches. First, answer all the questions that Google wants you to fill out. Once completed, your listing will have basic information that makes it easier for customers to understand your business. Second, ensure you are constantly updating your profile to reflect changing hours, events, or company information.
Respond to Reviews
According to Brightlocal's "2019 Local Consumer Review Survey," 82% of consumers read online reviews for local businesses. Additionally, among those consumers that read reviews, 97% read the businesses' response and only 53% would consider using a business with less than 4 stars!
Reviews are your opportunity to show customers that you value their feedback. By responding and making changes based on these reviews you build trust amongst consumers. You can encourage customers to leave feedback by creating a link in your profile to leave reviews.
Add Photos and Video
Adding photos and videos help create an expectation before people go to your business. Accurate, appealing photos show that your business offers what someone is looking for. This is helpful in limiting negative reviews that result when people are misinformed about your product or service. You should ensure that you add a logo, cover photo, and additional photos that showcase the unique features of your business. One helpful tip is to add a photo of your exterior so people can recognize your business when they visit!
Use Posts
Google posts show up in the knowledge panel and on Google Maps, they are similar to ads and social media posts. Posts can be useful when:
You're having an event: create a post with a date, time, event details, and information on ticketing
You recently wrote a blog: add a synopsis and link to your blog
You have new products: showcase your new product and link to your purchase page
You have an upcoming sale: provide information about the date and time and explain what products are on sale
To get the best response on your posts, add an image, call-to-action, and a link to a page on your website when applicable. Posts will only stay live for seven days or until your event has concluded so be sure to post frequently.
Utilize New Features
Google my Business is constantly changing and introducing new features. Two new updates in 2019 now allow you to include online reservations and attributes as part of your listing.
Appointment URLs & Online Reservations
This new feature allows you to include a second link to your website. This link is used to direct users to a place on your website where they can place an order, schedule an appointment, or contact you. This feature prioritizes user convenience as they can go directly to the page they are looking for. This helps create a positive experience for your customers by reducing barriers to purchase.
Attributes
Attributes are another way to inform customers about the amenities of your business. You can help your business stand out by highlighting features, services, and unique characteristics. Before the update, Google would analyze your reviews for keywords to add to your listing. Now you have more control as you can add your most relevant keywords to your listing. Google's algorithm favours any practice that helps the consumer, by providing more information you are more likely to reach customers within your target buyer persona.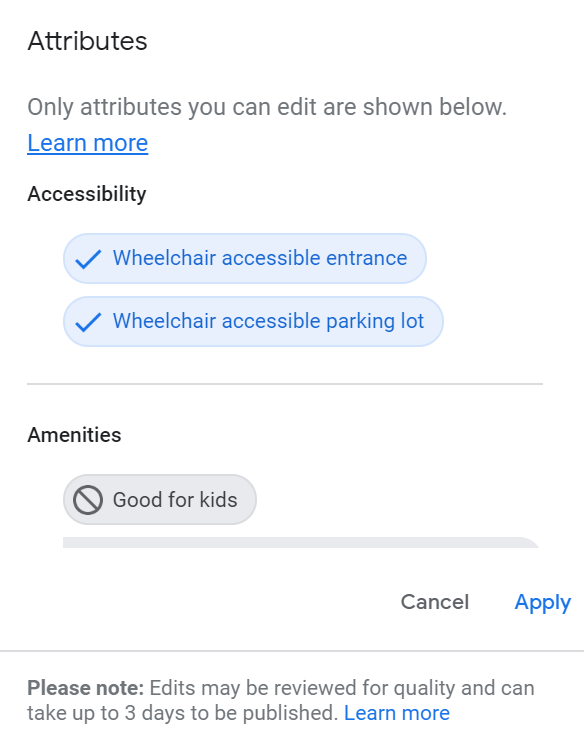 2020 and Beyond
While these 5 strategies will keep you ahead of the game in 2020, the world of digital marketing is changing rapidly. We would love to know your content marketing strategies for 2020! Comment below, or tag us on your preferred social channel with your ideas.