What is the difference between a business that comes in the top few results of a Google search, and one that doesn't? Besides garnering more business through organic search, those that utilize most or all of the Google Suite of tools will find that their listings are displayed more favourably.
Your business can have the same advantages, simply by understanding the search engine marketing tools offered by Google, undertaking a few signups and spending some time learning the ins and outs of Google's marketing tools.

Ensure Local Visibility with Google My Business
Google My Business is your business' link with Google. It is your opportunity to tell Google all about what your business does, where it is, when it's open, etc. It is also what many other resources on the internet reference to display information. It is critical for all businesses, especially local "brick and mortar" businesses to have a complete Google My Business profile. Outside of ensuring your website can be indexed, this is the #1 online visibility tool that every small business should implement.
Try this: Enter a search on Google for a business/product/service in your area, and you'll see something like this: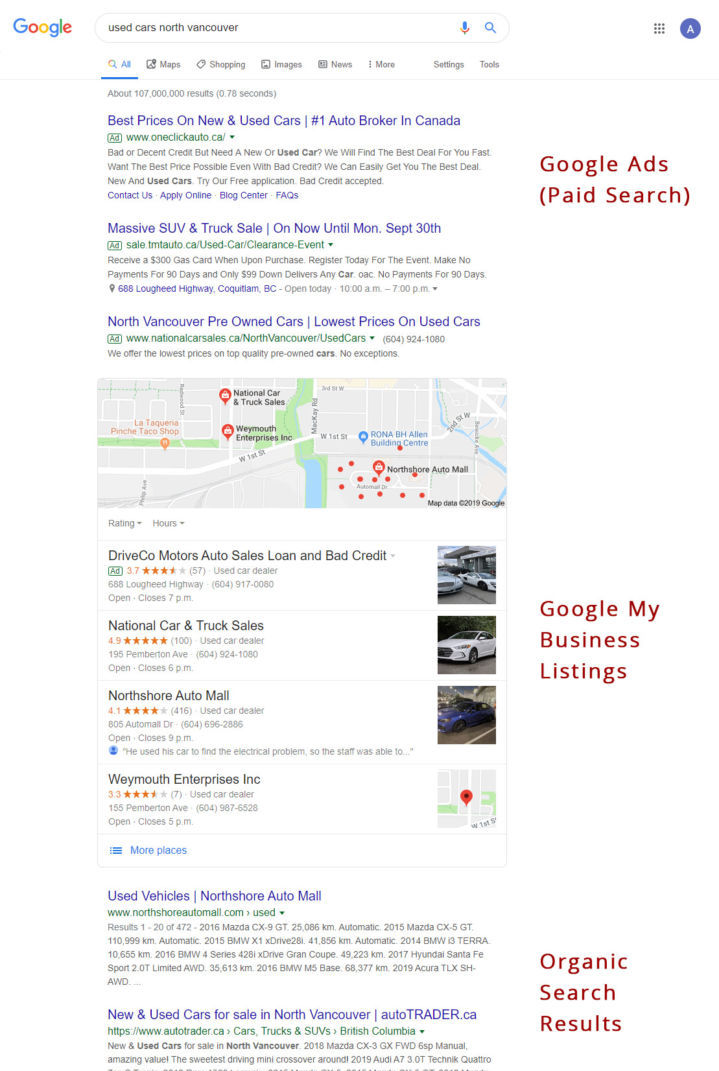 If your business is not listed on the map for the product/services you offer, then you are missing an opportunity to earn business and expand your marketing strategy. If it is listed, claiming your GMB listing lets you customize your profile (and what appears in search results) with photos and video, add missing information (such as open hours), and respond to reviews, which in turn can help improve Google search rankings further.

Besides Google My Business, there are other local search and citation sites you can use to ensure your business is correctly listed so people can find and contact you easily, but claiming and completing your GMB profile is a great first step.

Ensure Google Knows Your (Website's) Existence
Whether you've just launched a new website or have had one for many years, Google Search Console (formerly and often still affectionately referred to as Google Webmaster Tools) helps you communicate with the Google bots (those friendly little crawlers that tell Google search engine all about you) about your website, and it is also the only way Google can communicate with you if there is an issue with how your website is rendering in the Google Index (search results).
It doesn't necessarily help your website show up in search results, but rather it provides information on the elements that are affecting how, or if in fact at all, your website shows up in search results. Verifying your site and submitting a sitemap to Google Search Console is the first step in ensuring online visibility, and then the reports and information within GSC will assist in ensuring you remain visible, or can at least help point you in a direction to remedy any issues that come up along the way.
Example: You've just revamped your website and added some new pages targeting different keywords related to your business. Rather than wait for Google to recrawl your website and index the new pages, you can submit your sitemap and get those new pages up more quickly.
If you're still not sure where to begin with Google Search Console and how your website ranks on the web, consider an SEO audit to discover how current your online optimization is and how online search engines are viewing and ranking your business.

Understand Your Traffic with Google Analytics
How do people end up on your website? Where are they from? Why type of technology are they using? What keywords are attracting attention in search queries? What landing pages are the top performing? If you ask yourself these questions (and if not, you should), then you'll want to set up a Google Analytics account for your website.
Example: You have a regular social media presence, but aren't sure whether it's worth the effort since you can't "see" who clicks through on your posts to your website, or what happens then. With Google Analytics you'll be able to see 1) what social media platforms people come from, 2) where they come from (geographically) and when they're most active, and 3) what landing pages are generating the most interest.
By capturing visitor information when they click through to your web page, you can hone your marketing, optimize your webpages, and ensure that your business is targeting the right people in the right places. While setting up Google Analytics to "talk" to your website can take a little bit of technical know-how, it's worth the effort for the information it provides. Just be aware that while Google Analytics helps you "look" at your traffic, but you'll need a marketing strategy in place if you want to affect those results and maximize conversions.

Expand your Audience – Take Advantage of Google Ads
Now that you have all the tools to ensure that your website organically lists on Google, and know more about who comes to your site and from where, you may want to give your web traffic a boost. Whether to market your business as a whole or draw attention to a particular product/service/event/offering, Google Ads can help you get to your audience, not only on Google Search but other platforms as well with PPC advertising (pay-per-click).
Google Ads allows you to build search and display ads (as well as video and shopping) to target your chosen audience and increase or improve certain metrics. Do you want to increase website traffic? Get more conversions? Promote a certain product, service, sale or event? If you want to sell it, Google Ads is a great place to get more exposure.
Example: You're a travel agent who specializes in eco-tourism, but so far your only customers have been through word-of-mouth with a few website inquiries. You could develop Google Ads to target those searching for "eco-tour vacations" within a certain geographical area (like North America) and then serve an ad promoting your service.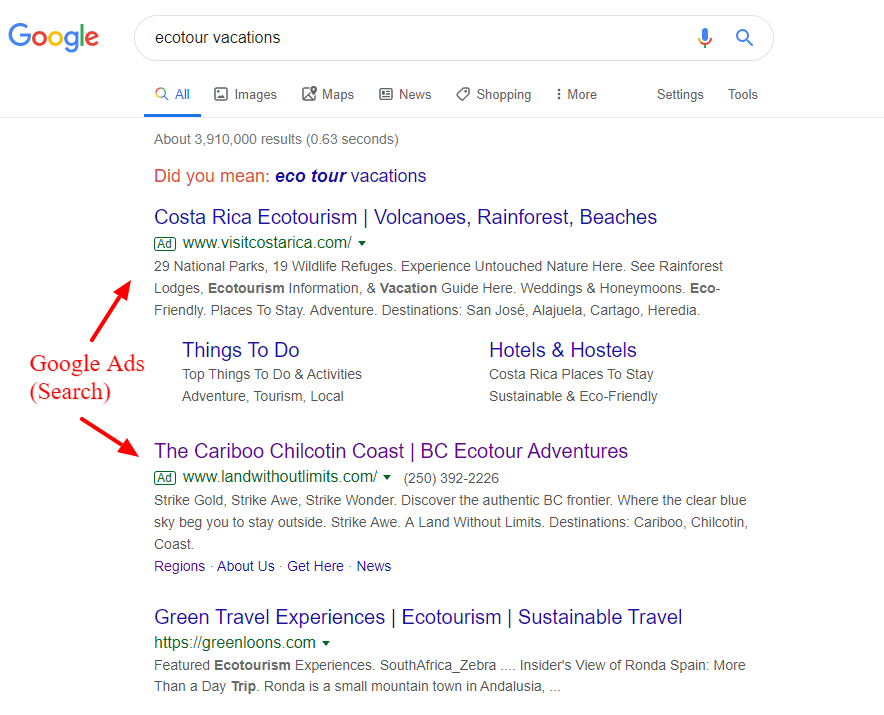 Building ads, audiences, budgets, and all the associated miscellany needed to run a successful Google Ads campaign can seem like a daunting task, which is why you can benefit from the assistance of professional digital marketers who know the ins and outs of the program, as well as maximizing the benefits of Google Suite.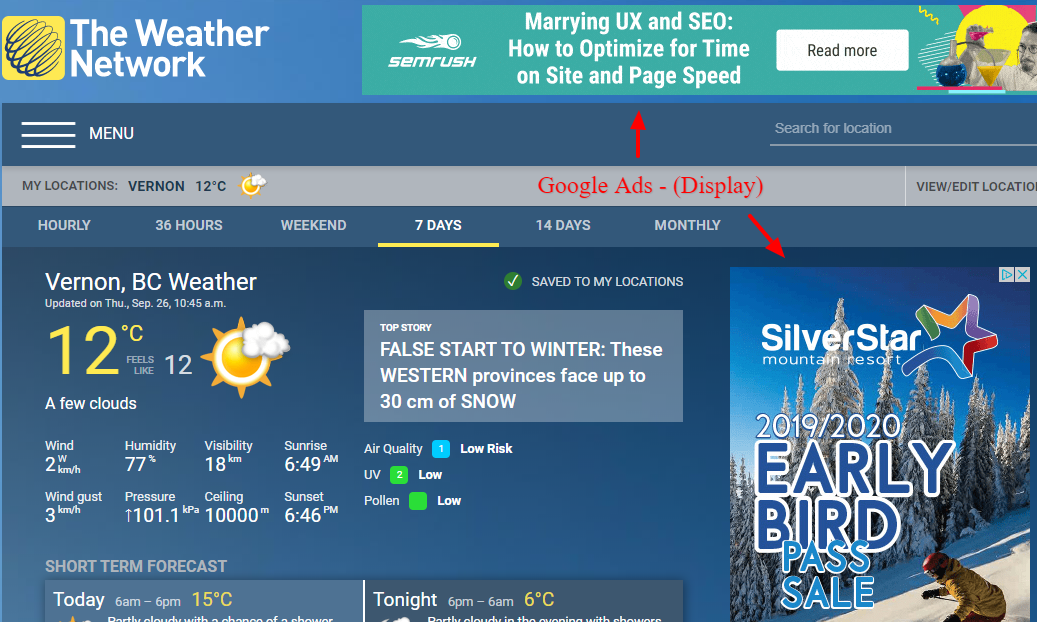 In the end, your website's search engine results are only as good as the ability for you (or your team) to take advantage of the tools provided and maximize your website for search engines. Whether on your own or with some help, a little effort can go a long way towards boosting your company's profile and reach on the web.
Need help? We're here!