As someone who looks at the traffic and stats for many of our clients websites on a daily basis, these are the words I've been waiting to hear for sometime. I immediately went to the iTunes store where you can download the Google Analytics app for iOS for free.
What Is It
Google says the Analytics app will permit you to access all of your Google Analytics web and app data from your mobile device. Monitor recent changes with Real Time reports and easily get your Analytics data anytime, anywhere.
This new, 1.0 version of the first-party app for its popular web analytics service makes it much easier for marketers and webmasters to keep tabs on their campaigns and web properties while on the go or as is often the case, in the middle of a meeting when you need some important website or marketing campaign information.
Up until now, if you wanted to access Google Analytics on your mobile device, you either had to "endure" the mobile interface or use oftentimes sub-par and expensive third-party apps.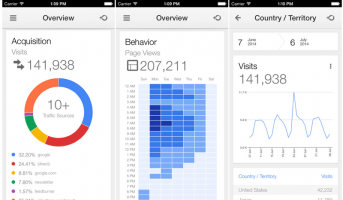 Initial Impressions
Upon downloading the Google Analytics app, I logged in and was immediately greeted by an overview of all accounts I have access to view. I found it a clear and organized presentation. I could dive into Real-Time statistics, receive a quick overview of Audience statistics, and then break those down by predefined segments, all items we look at when performing Analytics insight for our clients.  All the analytics sub-sections are available for viewing, including Audience, Acquisition, Behavior, and Conversions.
One item missing that would be fantastic for implementation in version 1.1 would be the ability for Customized segments to appear in the Segmentation menu, but for now, I am more than pleased with this first gen release and can't wait for the opportunity to pull up some stats in the next meeting.
What do you think? Have you tried the new app? Ever had the need to know what's happening on your website while on-the-go? Let us know in the comments below.