I love to see a well thought out, elegantly executed marketing strategy unfold. Recently, I witnessed this through a Molson Canadian activation that I have to share.
It's Just Another Beer Commercial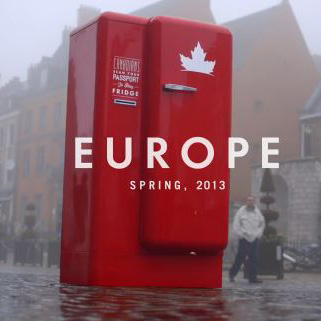 Or at least that's what I thought when I was interrupted from my YouTube video watching with what appeared to be another commercial. As usual, I had to wait my 5 seconds before I could Skip Ad and continue onto my mindless viewing. But there was something about this spot that drew me in. Was it the marketing guy in me wanting to find out more about the creative that xyz company was putting forward? Maybe a little, but truly I was captivated by a single image. A striking image of a bright red beer fridge, with a Canadian maple leaf very visible, and the words "Europe  Spring, 2013" spread across the screen. Wait a minute, these two items don't go together. I was hooked. (Kudos #1 – Great job marketing agency.)
Engage the Audience
As the reveal continued, and the story unfolded, curiosity is piqued as multiple fridges are shown being distributed throughout Europe and then the "activation" occurs. It's a beer fridge, in the middle of the street/field/road. What lives in these beer fridges? Well, only one way to find out and here's where the plot thickens. It is learned that the only way into this mystery container is to scan a Canadian Passport. So the crowd becomes vocal, searching out someone with a Canadian Passport. Please, let us into this great red fridge for we desire to know what is inside. (Kudos #2 – Pandora's Box beckons.)
Finally, a good-hearted, traveling Canadian, complete with the unofficial passport of a Canadian flag stitched to the backpack, is located and the official passport is scanned. What happens? Well, you should watch the video for that part.
Why This Connects
Here's why I felt compelled to share this story. This ad touches on human emotions for both the destination market it is being presented in and the visiting Canadian. It exposes a beer brand, which probably doesn't have a large market share in Europe, to a new audience. They get to discover what's inside and experience a piece of Canadiana. It also showcases the traveling Canadian as the gatekeeper to a great time and it brings back the memories (real or imagined) about all the great parties with that particular product.
Make no mistake on who this effort is for. The in-market activation was great and probably got a number of people talking. But the commercial it launched, the Making of video that supports it, and the social media hashtag of  #IAmCanadian will keep the legs of this beast moving. In the six days since the video was posted the original video had 1.27 million views (at time of writing). The Making of video had over 10,000 views and hashtag mentions are too numerous to count. Great results that hopefully convert into sales for the end client. (We won't know that one for a bit.)
As a proud Canadian, getting ready to celebrate Canada's 146th birthday this Canada Day weekend, I thought about purchasing their product – which isn't high on my importance list usually. I felt proud for the Canadian to be able to unlock that fridge and to share a tasty beverage in a foreign land. This ad nailed the bulls eye on me.
So, happy Canada Day! Enjoy a frosty cold beverage, whatever it may be, and remember – when you're building your next marketing strategy, look for that connection.