As part of our ongoing series on Small Business Marketing Tips, I decided to write a post about customer service.
Situation Overview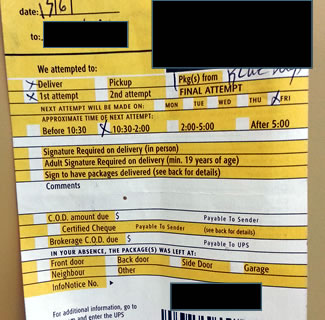 I recently purchased something online from the Blue Jays gift shop for Father's Day. The package was delivered while I was at work and the typical "We attempted to deliver" notice was left stuck to our door. As the notice clearly stated that the this was the first attempt and that they would be back the next day between 10:30-2:00pm, I felt confident that I would receive the package then. Before I left for work the following day, I placed two large notices at the bottom of the stairs requesting that the parcel be delivered across the street to an alternate address. When nothing arrived that day, I naturally assumed the package would come the next day. (You can see where this is going, can't you?) The weekend came and went and the package delivery slipped behind any of the many other tasks that fill a person's day until Wednesday of the following week – at which point I called the number on the sticky note to follow up. An automated voice was kind enough to tell me that my parcel was awaiting pick up. To find the location and make an appointment to pick up the parcel "Please visit our website."
The Turning Point
Well by now, I'm feeling frustrated. The single delivery attempt, the automated completely useless phone message, the un-manned, make an appointment pick up location, this is turning into more work than the T-Shirt is worth. As things worked out, I was also leaving town for a few days and was unable to make arrangements to pick it up right away. Part of me still hoped, somewhat naively, that the second (and perhaps third and final?) delivery attempts would be made. Of course they were not and when I returned the following Monday to check on the package, you guessed it: "Returned to Sender".
This was turning out to be a memorable experience and not in a good way. I'm now on the phone to the Toronto Blue Jays customer service line, doing my adult best not to take out my frustrations on whom ever the poor soul is that is going to take my call.
The Result
As it turns out, the customer service agent Ryan did exactly the right thing. He looked into it and dealt with it immediately. In under four minutes (because thankfully there was no "We are experiencing higher than usual call volume" message… that could have jeopardized poor Ryan's life. ), the T-Shirt is being shipped back at no charge with a different carrier, Canada Post.
The take away from this? I have made several purchases from the Blue Jays Shop over the past few years and I was ready to NEVER buy from them again based on this experience. There are plenty of other options to choose from, I don't need this amount of grief. Ryan's customer service, that cost the Jays ~$8 in shipping,  has kept me a customer. The original carrier? I will never consciously use them again if I don't have to. Their customer service was terrible. They couldn't even be bothered to call before they sent the parcel back. I've told at least five other people this story and now all of you.
In today's buying environment the shopper has unlimited options on who to spend their money with. Mistakes happen, delivery drivers don't do their jobs, systems break down. You can't control everything. But you can control how you deal with it. Kudos to the Blue Jays and Ryan for setting a great example on how to do it right.
Great marketing is just the beginning. Mistakes are going to happen. Take a moment to review your company plan on how you handle things when they do. Empower your staff and make sure you have clear information online as part of your website usability plan available for customers to contact you.