We hear what you're saying, "another top SEO tips" blog, but there is a reason why it is still such a hot topic…most businesses are STILL missing the mark when it comes to optimizing their digital presence! Add to that the fact that the goalposts have significantly shifted in the last few years, and you can see why you should take less than 10 minutes to review the most commonly encountered SEO shortcomings.
Consider this post like a SEO pop-quiz for your business. We aren't going to define the meaning of SEO or go through the benefits again, but we are going to give you some handy tips, tactics, and resources along the way.
SEO Tips Table of Contents:
(the above is a bonus tip – Using a linked table of contents can help Google better understand your page's content. It can also result in sitelinks)
#1 Pagespeed & Why It Actually Matters
In their 2018 "Speed Update," Google explicitly highlighted the role of page speed as a ranking signal. Despite this clear language from Google, there has been a lot of confusion about whether page speed actually contributes to search rankings.
Why is there still such a debate? Well, it comes down to the fact that there are actually two factors at play here:
The first factor is that page speed is likely a "ticket to entry" for higher search rankings. A 2020 search engine ranking analysis by Backlinko compared first-page results and found that sites appearing in the top 10 spots averaged 1.65 second load times. However, once pages with longer load times are included in the data, it becomes clear that the Speed Update from Google is working more like a filter to keep slower pages from the top spots rather than a reward for the fastest pages. Once your page loads in under three seconds, the returns start to diminish.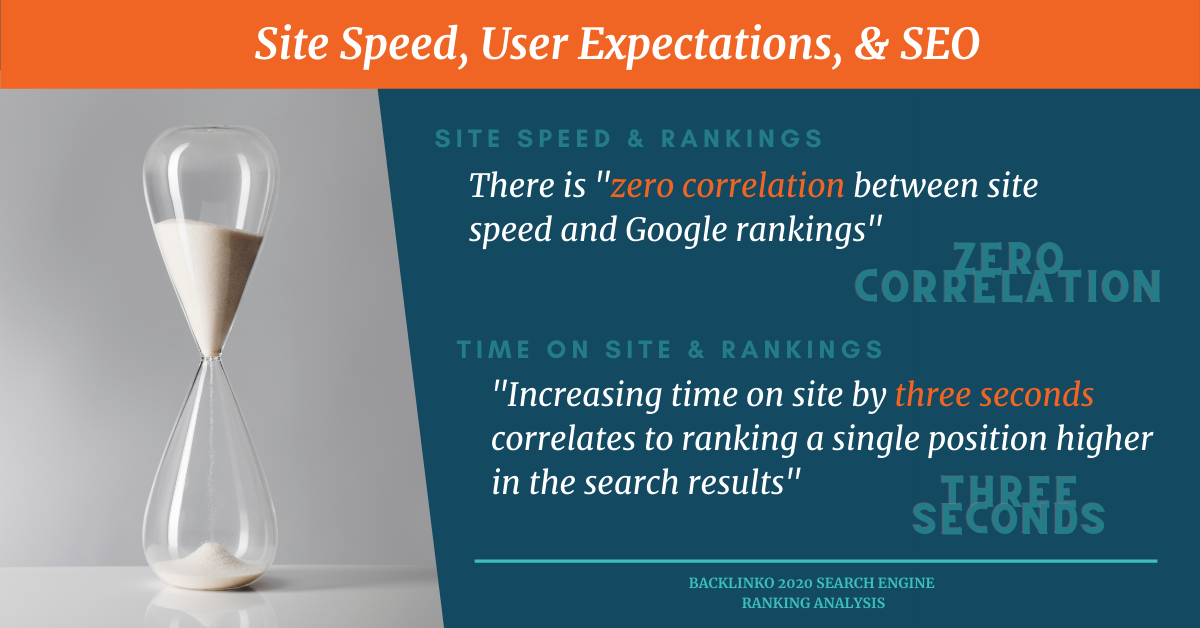 The second factor has to do with user experience and attention spans. We have all heard about the Microsoft/Statistic Brain study with the diagram showcasing that the human attention span is now shorter than that of a goldfish (eight seconds vs nine). So, in relation, faster load time puts interactive content in front of users with more time to make an impression. Rather than bouncing off the page when it takes too long to load, users engage, navigate to more pages, and spend more time on your site, which is a strong signal to Google that your page is worth ranking.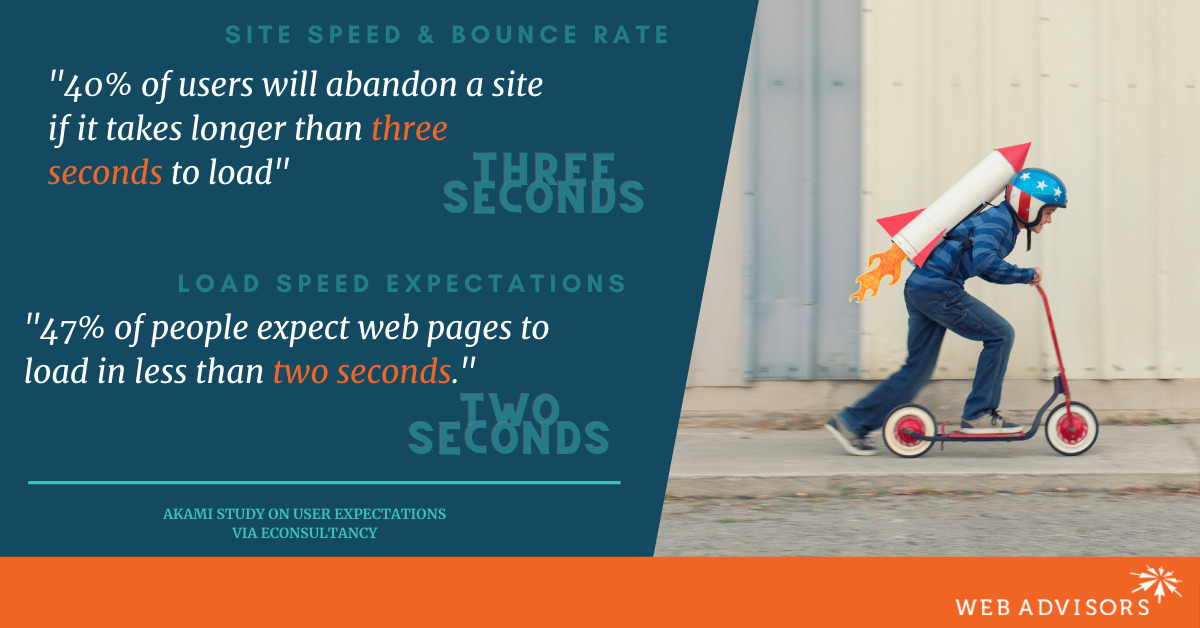 What does this mean for your site?
Improving page load speed should be a top priority for your website. In fact, we recently listed slow load time as the #1 business website mistake!
Pop Quiz: How fast is your website? Try using Google's free Pagespeed Insights tool.
#2 Google My Business (and Citations in General)
Google My Business (GMB) contributes up to 33% to the local pack results. If you are a business with a physical location, and you want to be featured for proximity-based searches, then having a claimed and optimized Google My Business listing is doubly important!
The other benefit of managing your GMB account is that you can monitor and encourage reviews. Every new analysis of local search ranking factors is highlighting the importance of reviews – in fact, reviews are now the second most important factor for local-pack results.
GMB and reviews can contribute up to 49% to your local map pack rank. That is why The Web Advisors encourage every business to include a Google My Business optimization in their 2021 marketing strategy.
Before giving all the credit to GMB, it is worth noting the clout other citations have in local map and local organic rankings. While the weight of "traditional" citations may be decreasing over time, they are still an important piece of the SEO puzzle.
Developing citations starts with an analysis of your current standing and developing a strategy to pick the lowest hanging fruit. That said, as this graphic from Moz shows, the citation ecosystem can be fairly complex and having a trained eye assist with your citation planning can help avoid time-wasting mistakes.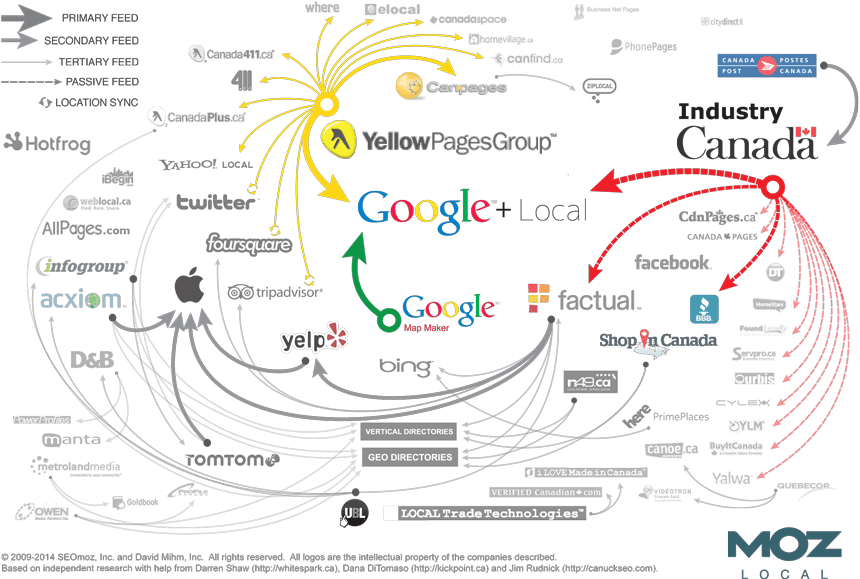 What does this mean for your site?
Claim your Google My Business listing and optimize it. Once it has been claimed, encourage customers to leave you a review (and be sure to respond, especially the bad ones. Sometimes you can even turn an experience around and ask the client to remove or upgrade their review)
Pop Quiz: Search for your business by name on Google – does your GMB listing show up?
If you want even more insight, conducting a full Local Search Audit can identify your current citation ecosystem and provide a path towards improvement.
#3 Content Depth and Focus (Length and LSI)
If you have read this far, then you are already aware of how high-quality content can increase engagement and the amount of time users spend on a site. You may have also clicked on a link or two? Both of these things are strong signals to search engines that a page is worth ranking. (We will explore the power of quality links in tip #4).
So you may be asking yourself, "Self, how many words should my pages have?" We pose the answer provided by Backlinko's 2020 SEO analysis: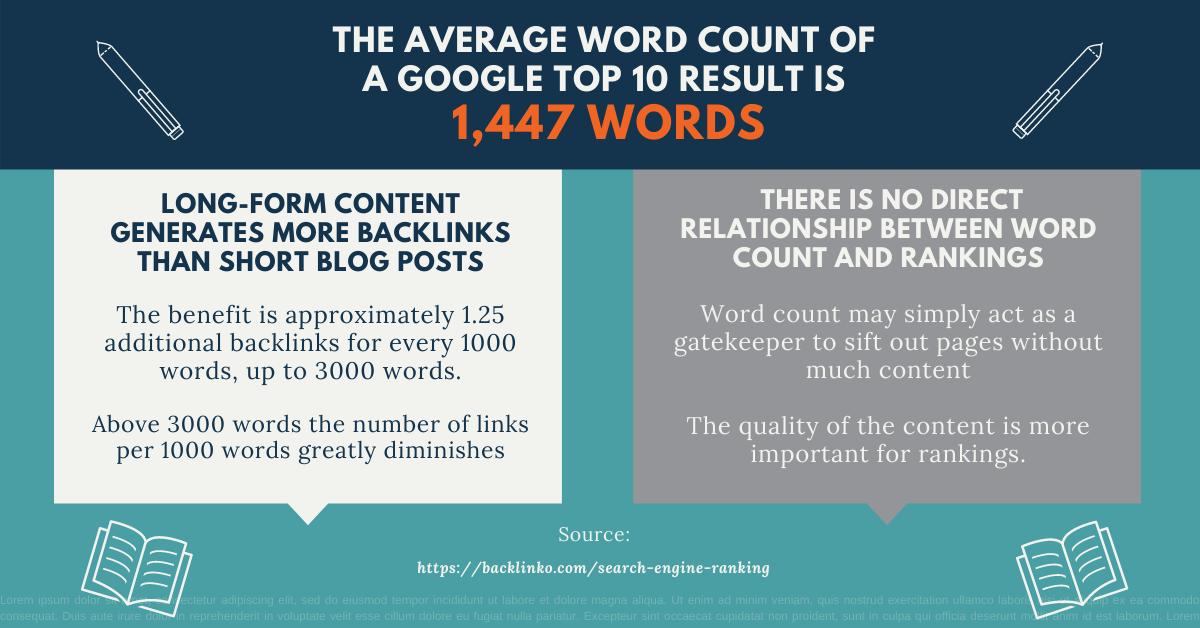 Before you assume that longer is better, it has also been shown that the volume of words does not have a direct relationship to top rankings. Word count is similar to the page speed indicator in that it may simply act as a gatekeeper to sift out pages without much content.
What's the short answer for target length? The current mark to hit seems to be a minimum of 1,000 words.
Why are pages with more than 1,000 words ranked higher? It likely has to do with "content grade." Google's rapidly expanding search complexity considers the whole ecosystem of words you use on your website, rather than just matching up keywords. The technical term is Latent Semantic Indexing.
Gone are the days that you can stuff keywords onto a page and show up in the top spot. Search engines now analyze the whole page and look for related words to ensure that your page is actually relevant to receive the honour of being ranked on the top page.
There are tools, such as Clearscope, that you can use to analyze the quality of your content and companies that specialize in content and conversion marketing, like The Web Advisors, can assist with developing quality content.
One quick hack that we can share with you right away is to use Google's search recommendations as a jumping-off point for article development. You know those little additions Google recommends whenever you are typing out your search? Those are all terms Google thinks are related to your primary topic. You can make note of the suggested terms and incorporate them into your post.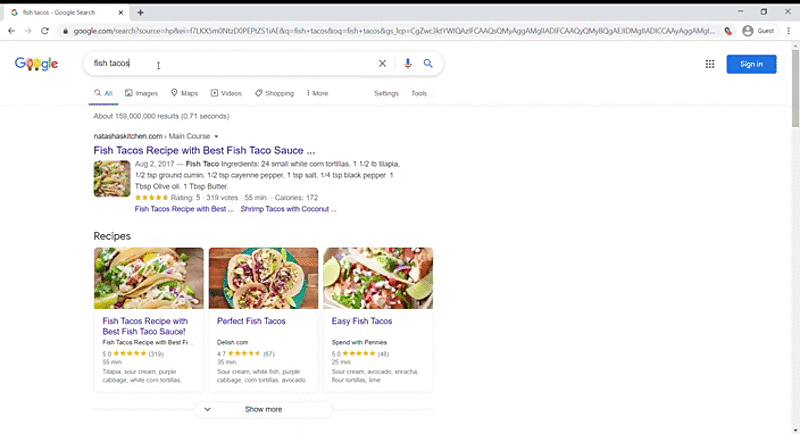 What does this mean for your site?
Aiming for at least 1000 words for key pages is a good goal, but be sure to provide relevant content that encompasses more than just a single keyword. You are an expert at what you do, so sharing that expertise while using terms and phrases related to your keyword (or focus keyphrase if you use Yoast) will help your pages rank better.
Pop Quiz: How many words are on your primary pages? Quickly check by installing any one of the free word counter extensions for Chrome browsers or by using a free online tool.
#4 Backlinks, Backlinks, or Backlinks?
There has been some doubt as to whether backlinks actually still matter. According to recent studies, links make up 31% of the localized organic ranking factors and this share is growing. That means developing links to your website from other high-quality sites is one of the top off-page SEO actions you can take.
Developing quality websites to link to your page isn't always the easiest thing to accomplish. The Web Advisors have learned from many successful backlink building campaigns that the first step is learning that it never hurts to ask (Neil Patel, we'd love it if you could link to this post!).
However, when you are asking for that backlink, providing relevant and unique content is the cornerstone for creating a reciprocal relationship.
So how do you start?
Sharing your expertise and providing high-quality content is always a best practice. Quality information is more likely to earn trust and yield backlinks.
There are many local businesses and organizations that are looking for quality content (think chambers of commerce, destination marketing organizations, etc.). Sending timely updates, helpful tips, and relevant content for inclusion on sites or in newsletters is a good way to take advantage of (and provide value to) your local support network.
Quality links are critical. Toxic backlinks can actually result in penalties, so using tools, such as SEMRush's backlink audit tool to monitor your website's backlinks and provide alerts when a new toxic domain links to your site.
Having more links is a good thing, but if they are all from the same site, then it doesn't have the same impact. So when you are developing link networks, aiming for more diversity in the linking domains is better than getting a ton of backlinks from one site, even if that one site is extremely strong.
What does this mean for your site?
Working to develop quality content and connecting that content to other websites is worth the effort. The top ranking search engine result has an average of 3.8 times more backlinks than the other results on the first page! Gathering links from a variety of related businesses and organizations can yield significant SEO results.
Pop Quiz: How many backlinks does your site have? Ahrefs has a tool to conduct a quick analysis of your site's backlinks.
Conclusions
We have really only scratched the surface here. If you have followed any of the links above, you can quickly see that the SEO landscape is always evolving. Even direct guidance from the search engines can be confusing! Don't despair – this ever-changing environment should actually be a good thing for anyone who is willing to invest a little bit of time to optimize. Identifying your SEO goals and taking continual action is all it takes to get ahead of those who don't manage their SEO.
Pop Quiz Recap, SEO Tips & Tools:
We know that the world of SEO can be daunting – The Web Advisors are also available to help jumpstart your SEO process. We can conduct a full analysis of your site to provide a customized "SEO how-to" for your business. Need help? One of our SEO specialists would be happy to connect with you to analyze your site's SEO fundamentals and develop an action plan to improve your rankings.