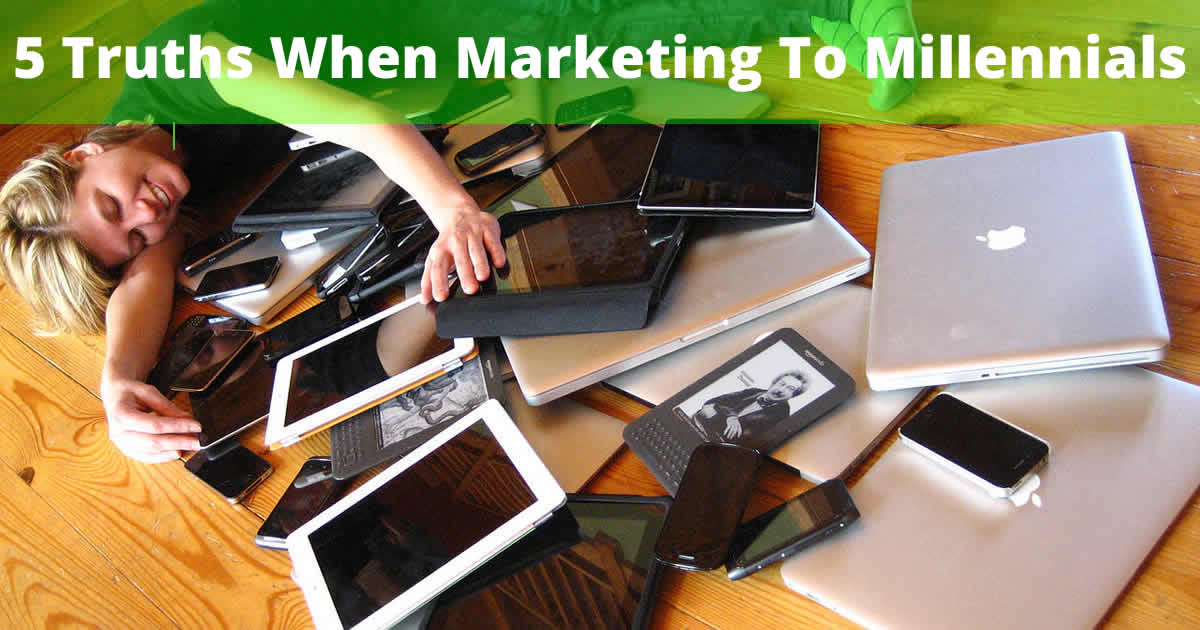 To know how to go about marketing to Millennials, we first need to know who they are.
They are roughly defined as the age group born between 1980 and 2000, so between 15 and 35 years old. (There is some discrepancy in defining the age group, so we're going with a ballpark figure.)
There are 92 million Millennials, compared to 61 million Generation Xers and 77 million Baby Boomers. (Goldman Sachs)
But those numbers really tell us nothing. "As with all target markets, it it is important to define and hone your audience," reminds Trisha Larsen, TWA's inimitable leader. "Demographic, geographic and psychographic segmentations are useful, however truly understanding the behavioural characteristics of Millennials is what is most important."
"There is also danger when lumping together an entire age demographic for marketing purposes that you forget the most important thing: Millennials are people too," warns Chris Elder, lead project manager at The Web Advisors. "That's a pretty broad age range to focus on." Within that range, people are at vastly different life stages. Rather, "Think about what you want your target audience to do. Buy a phone? Take a vacation? Get a mortgage? The end action should be the focus."
"Your marketing message should always focus on the desired action first rather than an age demographic."
That said, Chris admits that "as the largest demographic group, and heading into their prime earning years, you need to always be aware of this age demo. They are going to define the purchasing patterns for years to come as the Boomer generation dwindles." In fact, according to a recent Goldman Sachs report, the Millennial-count has already overtaken the Boomers and are sitting at over 90 million (vs 77 million).
With that in mind, there are some truths for this demographic as a whole which we can use to focus our marketing efforts. They're digital-dependent and tech-savvy, notoriously averse to advertising, yet most brands just can't afford to ignore them. Tough crowd, eh? Here are a few things to remember to make sure your schtick doesn't tank. We like to think of it is 'How to market to Millennials 101'.
Millennials love their digital devices
More than four out of five millennials sleep with or next to their cellphones. (Pew)
As "A technologically adept, youthful audience with significant buying power, it is important to remember that the Millennial Generation is the most connected of all. Their digital devices are simply a part of them, almost an appendage really," says Trisha. Moral of the story? Your message needs to be BFFs with your mobile platform.
Millennials expect technology to work
So make sure yours does.
This is a group which has grown up with digital devices that simplify every aspect of life – chatting, shopping, entertainment, directions – and all in one place. For example, "Millennials do not watch television, they stream online video through their devices," Trisha reminds us. Even their fridges can communicate with their phones! The smartphone was never a magical unicorn for them – it was a given from a young age.
It's no surprise then that Millennials completely align themselves with technology and expect it not only to work. If your message needs to be BFFs with your mobile platform, then your mobile platform needs to perfectly streamlined and easy to use. As marketer J.D. Peterson puts it, "Millennials simply expect technology to work, because that's been their experience."
Millennials are a social breed …
… Who love to share their experiences – shopping and otherwise. According to marketer Jeff Fromm, "More than two-thirds of Millennials don't make a major decision until they have discussed it with a few people they trust, compared to around half of all non-Millennials." Those discussions happen via their digital devices, sometimes in real time, on public online platforms (hello Snapchat and Facebook). Naturally. And then they share those shopping decisions and experiences. Online. Naturally.
In numbers: 70% of Millennials report feeling a responsibility to share feedback with companies after a good or bad experience. (Millenialmarketing.com). And then, of course, there's the social sharing that happens… Annoy a Millennial and you've likely annoyed their 200+ of their closest (Facebook) friends. (And we didn't just make that number up either: Millenialmarketing.com reports that 46% of Millennials have 200+ Facebook friends.)
Millennials genuinely give a damn
Almost 50% of Millennials say they would be more willing to make a purchase from a company if their purchase supports a cause, and 37% say they would be willing to purchase a product or service to support a cause they believe in, even if it means paying a bit more. (Millenialmarketing.com)
Chris agrees that Millennials are great "Supporters of causes." You gotta show some love to get some love.
Millennials want life-enhancing moments
This includes products, services… and your marketing message or campaign. They are more likely to listen to you – and then buy whatever you're selling – if all aspects of the journey enhance their lives.
"You need to show value in your experience or product," says Chris. "What this means from a messaging standpoint is that you (a) need to tell a story, and (b) be transparent and open. That old selling maxim of 'Save Big' won't work with this group."
Michael Brenner, Head of Strategy for the leading content marketing platform, NewsCred, gained similar insights when his company interviewed 500 Millennials on their attitudes towards advertising and marketing: 64% reported being much more receptive to advertising tailored to their own interests. Again, not only must your product enhance their lives, your marketing must too. As Brenner puts it: "Millennials don't want ads. They want stories."
And that, folks, is the best tip there is for marketing to Millennials: "Millennials don't want ads. They want stories." That, and "Millennials are people too." No. Really.