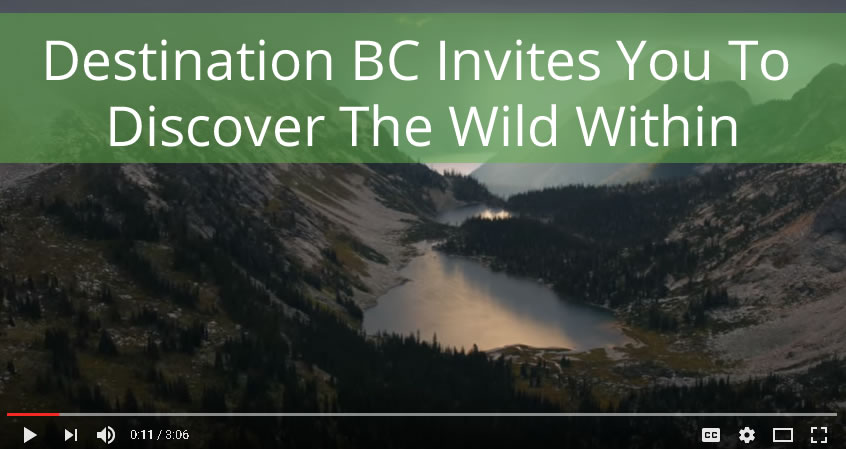 Destination BC is determined to inspire and they have done just that!  Starting first with the launch of their new corporate strategy to hundreds of engaged Tourism Industry professionals at the TIA-BC Conference in Vancouver, and then to thousands as they simultaneously rolled out their revitalized brand across social media and traditional channels, and onward to millions as Destination BC invites the World to Discover the Wild Within.
Destination BC. Bold. Wild at Heart. Awe-Inspiring.
Powerful, emotion evoking imagery, a new aboriginal style "great forest" font,  and an urge to "rethink life's measures" – "what is important?" – are all poised to push through the clutter of sameness in travel destination marketing.
We are the sea to sky province of abundant wildlife and cities on the edge of wilderness. We are a province shaped by nature. It has nurtured our people, our history, our culture… and our visitors.
Our province. Our people.  Our provincial destination marketing organization.   We are so proud to be British Columbians, to live and work in this great province of ours, and to be part of our provincial tourism marketing team!  Cheers to a successful strategy and brand launch Destination BC!
Together, we can compete to win!  British Columbia will be the most highly recommended destination in North America!
Explore Destination BC's new strategy at DestinationBC.ca/Our-Plan learn more of Destination BC's Brand and watch Destination BC's Brand Story Video below, then tell us what you think. As tourism focused marketers, we are always keen to hear what industry has to think.