Managing the online reputation of your tourism business, or any business for that matter, is of critical importance in today's digital world. With dozens, if not hundreds of articles by major news sites like Inc. and Forbes talking about  how to keep your online reputation from affecting your bottom line and sharing some of the horror stories of those that didn't, online reputation management MUST be one of the pillars of managing your business.
If you're not focusing on managing the reputation of  your business online because you're not sure where to start, here are a few tips we've picked up along the way and some of the influential heavy hitters in the tourism and service industry we've discovered from working with our clients.
The Holy Trinity of Online Reputation Management for Tourism Businesses – Review Sites
TripAdvisor
You've likely heard of TripAdvisor, it's the travel review superpower. Starting out as a home for impartial reviews offering "trusted advice from real travellers",  TripAdvisor has grown into the world's largest travel site, not only sharing reviews, but also enabling visitors to book their entire vacation within a few clicks. Paying attention to what people are saying about your business, and engaging those that do choose to comment, is critical for every operator from hotel and golf course to the fishing charter operator. Many hotel operators live or die by their ranking and feedback on TripAdvisor and it is becoming more and more relevant for other operators as well.
If you are in the tourism sector and have an experience you want to sell, it is highly encouraged that you ensure you own your listing and then pay attention to it. Yes, there are many other items that need your attention, however a negative online review, without your perspective to accompany it, leaves many potential guests taking what one person says about your business as gospel.
Managing within TripAdvisor:
Claim your listing or get your business added to TripAdvisor- complete description, contact information and upload your photos where appropriate. Hotels must subscribe to a Business Listing to get your contact information published. For many small hotels, it can be a great revenue stream.
Monitor and respond to comments made about your business.  Here are some best practice tips from TripAdvisor
Yelp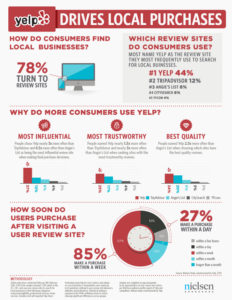 Yelp has been around for a long time, and honestly I had forgotten about the importance of this service as I often focused on the other two big players in the tourism space, Trip Advisor and Google.  The power of Yelp is that it is not only focused on one industry. It is a local business resource and provides information on everything from restaurants and hotels, to activities and grocery stores. Nielsen surveys conducted research in early 2014 that determined Yelp was the most influential local review site. You can see the results on their official blog. Now that should be taken with a grain or two of salt as the study was commissioned by… wait for it… Yelp.
Need a real world example of their impact and how it can affect your business? We were recently reminded of the impact Yelp listings carry, when we  received a call from one of our clients that had an incorrect phone number published somewhere on the internet. This wrong number listing was resulting in a significant number of misplaced phone calls were directed to a very frustrated lady who didn't offer the services our client offered, in this case – car rentals.
Upon digging in, we found the offending listing was on Yelp. The challenge then became in managing the listing within the Yelp ecosystem. As part of a franchise, the local operator did not own the business listing so implementing any change was very difficult. We were fortunate enough to have some good relationships within Yelp and with the Franchise owner to steer us in the right direction and get the changes made. Almost overnight, the incorrect phone calls stopped and are now directed to the business. This is an example of owning your online footprint. Something as simple as a phone number can result in lost business, upset neighbors and worst of all, a real impact to your businesses financial success.
Managing Within Yelp:
Claim and optimize your business listing using Yelp for Business Owners.
Respond to reviews, be aware what people are saying about your business.
Google My Business (please)
Google is the largest search engine in the world. Bar none, no questions asked, there isn't any other search engine that even comes close. Where do you think Google gets their information from? It's often cited that the Google search algorithm pulls data from over 200 "ranking signals" to determine the information to serve you. Major review sites like Trip Advisor and Yelp often get pulled into consideration and with the recent changes to the search algorithm, the Google Map results associated your business are playing into those results much more often. So how can you manage your "profile" within Google?
The oft-maligned social media channel of Google+ is building momentum and for tourism related businesses where location is a big factor, you can manage your brand appearance on Google My Business. The world of Google can often be confusing and determining the difference between Google My Business and Google+ could take up an entire other blog post, but what is clear is that taking ownership of your profile gives you control over presenting the correct contact information for your business and allows you to respond to reviews.
Reviews within Google

– here's where the online reputation management gets interesting as once you have claimed and manage your Google My Business account, you are given access to a dashboard where one of the primary categories is reviews. Not only can you see and respond to Google reviews but you are also to see some of the other influencing reviews from around the web.  These reviews are pulled from resources like TripAdvisor, Yelp and more recently, Facebook reviews. This can be a very powerful tool to understanding your online reputation and should be included in your reputation toolbox.
Managing within Google My Business:
Claim and optimize your listing within Google My Business
Respond to reviews.
Use the indexing of Google+ to your benefit. This is a great social media channel to find new people with similar interests.
Key Takeaway
Tourism focused businesses, as most every business, all have customer service models driven to ensure they offer a memorable experience for guests. By managing your online presence on your owned resources (website) and 3rd party review sites, you are ensuring the most accurate information about your business to setup expectations for your guests, and will be aware and ready to respond when someone else has something to say about you.