Canadian mobile marketers rejoice! For many a mobile marketer in Canada, the ability to track phone call conversions within your Google Adwords PPC campaigns has been a challenge. Well that all changed today with the launch of Google forwarding numbers. Hopefully.
Launching Google Forwarding Numbers
On the Inside AdWords blog post, Google announced the launch of a feature that has long been available to US-based marketers – Google Forwarding Numbers.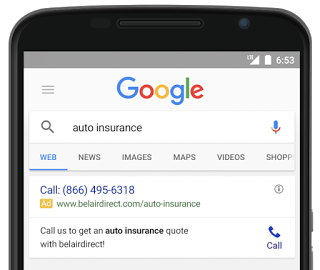 Google forwarding numbers can be used in conjunction with Call Extensions and Call-Only Campaigns in Google Search advertising. When enabled, when your potential customer clicks on the "Call" button, a unique phone number will be assigned by Google that will be routed to your business phone number. Erm, great… so how is that exciting?
More Metrics And Phone Call Conversions
When implemented, Google AdWords will pass along a variety of useful information to your AdWords account about the caller's area code, call duration, and if the phone call was answered or not.
Additionally, for those wanting to understand the conversions of paid ads that lead to phone calls, part of the Google forwarding numbers functionality is the ability to replace your business phone number dynamically on your website with a Google forwarding number. This requires a little bit of programming and code placement, but is otherwise a fairly straightforward operation. This would be especially useful for those marketers using landing pages for PPC campaigns (and if you're not, why not?).
With all this new data, savvy marketers will be able to report on call metrics and conversions, more accurately measure website call conversions, and ultimately optimize your bids and campaigns to ensure more valuable phone call traffic.
You can learn more about this new Google AdWords feature by visiting their post on the subject, or simply give us a call using our regular business line: 888-414-5463.