New Program for BC-Based Businesses Could Help You Take Your Store Online
You may have heard about The Province of British Columbia's newly announced grant program, Launch Online, that will pay for up to 75% of eligible expenses, up to a maximum of $7,500 per business for eligible businesses to develop or enhance their online storefront.
This pool of up to $12 million can be accessed by eligible BC Businesses on a first-come, first-served basis to help fund a variety of online-related expenses, including pictures, creating an online inventory system, advertising costs, subscription costs of an e-commerce platform, and training staff to manage the website.
More information about the program, eligibility, and details about how to submit your application can be found on the Launch Online website.
How Do I Take Advantage of This Program?
The first step is to develop a grant proposal that indicates how you plan to use the funds in tandem with a B.C.-based service provider.
As a B.C.-based service provider (*wink*) The Web Advisors can lend our expertise to help design  plan to get the best bang for your buck.
The application requires a cost estimate, and it is an easy process to get that started. If you take a moment to fill out the form on this page, we will get back to you asap to discuss how we can help you improve your online visibility and generate more revenue through digital channels.
—
Additional Information at a Glance
Is This Program For Me?
The answer is an emphatic YES if:
Your business is owned by a B.C. resident or residents;
Your sole or primary operations are located in B.C.
Your business is currently operating, is registered in B.C., Employs between 1 and 149 B.C. residents (yes, sole proprietors count), and Pays taxes in B.C.
You maintains a business number, GST number, and PST and WorkSafeBC number (where applicable)
You generated sales of more than $30,000 in the past year (in 2019, or in the year preceding the application)
You have repeatable products, or in the case of artists and jewellers, individual items that have slight differences (i.e. paintings or rings)
Do not currently have an online store or has an online store that has no more than three of the five identified online store features:

Customer registration and information security features
Shopping cart and order management capabilities
Payment processing options including application of appropriate taxes and shipping costs at time of ordering
Product catalogue, search and inventory status
Website analytics and reporting capabilities
What Are Some Examples of Eligible Expenses?
Funding will help cover up to 75% of costs for expenses such as:
Service provider costs:
Platform and website development
Copy and online content writing
Developing an online inventory of goods and products
Pictures (including hiring a photographer), stock photos or related graphics needed
Digital customer costs:
E-commerce platform subscription (up to 1 year)
Online advertising (up to 1 year)
Search Engine Optimization (SEO)
Creating banners and other embedded advertising
Staff training to manage the online shop, learn about digital marketing, etc.
Successful applicants must use one or more B.C.-based service provider(s) to build or improve their online store. The only non-B.C.-based eligible expenses include:
Platform subscription costs
Purchase of online photos and graphics
Purchase of online promotional space such as Facebook ads
You Are Helpful, But Where Can I Get ALL of the Details?
The official website for the program is LaunchOnline.ca
There is also a FAQ Page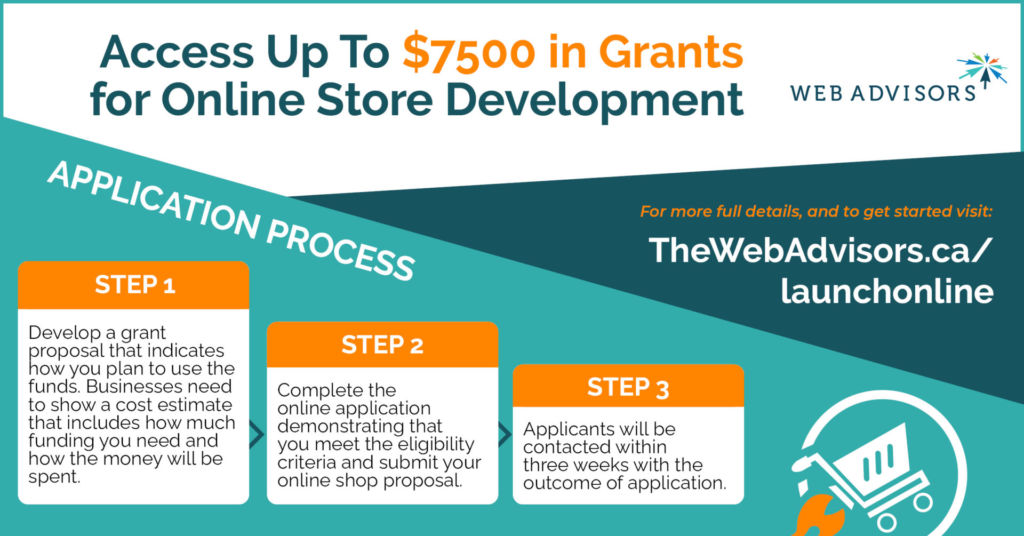 Related Services
---
Contact Us For Help