We have written about how to Get Right with Google in previous posts but did you know that your Google My Business is free and one of the first things a prospective customer will see when searching online? It is the key citation for businesses, and for some of you, it may be more important than your own website! Your Google My Business listing is largely your number one way to communicate with the massive search engine that is Google. Optimizing a Google My Business listing should be considered one of the core facets of a business, especially a local storefront.  Here are some great tips to get you started!
Locate, Claim and Verify your Listing & Ensure Accuracy
Claimed profiles get 5X more traction. Here are a few ways to locate your listing if it does already exist:
Perform a Google search for your business name and city and observe if a branded knowledge panel appears.
Perform a search in Google Maps, trying your name, address and phone number.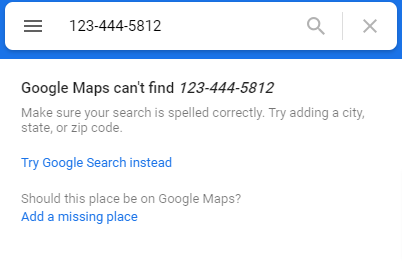 Log in to Google My Business and go to enter a new business to see if it pops up. If it is missed however you may accidentally create a duplicate listing.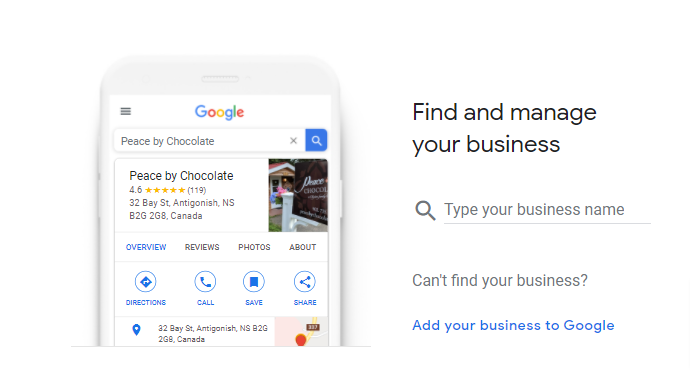 If you do locate your business by any of the above methods you can select the option to claim the listing and follow the prompts from there. If not, you will have to create a new listing. Note: In the rare case your business listing already exists and has been claimed and verified by another, you will have to submit a form to Google to get the issue resolved.
After claiming or creating your business listing you will begin the verification process. This is general done by phone or postcard, but there are other variations depending on your situation. Make sure to leave time for this process.

Once you have control of your listing, make sure your information is accurate. Of prime importance is what we in the industry call your NAP: your business name, address, contact telephone number, and additionally your email and hours of operation. This information should match your website and be consistent with your information across the web. It is also important is to choose the appropriate category and subcategory as well as decide on a suitable short, or custom name.
Optimize your Listing and Make it Shine
Not only is it important to make sure your information is accurate but making the profile stand out and reflect the flare of your business is a great way to connect with your potential customers. Here are some additional tips to help you do just that: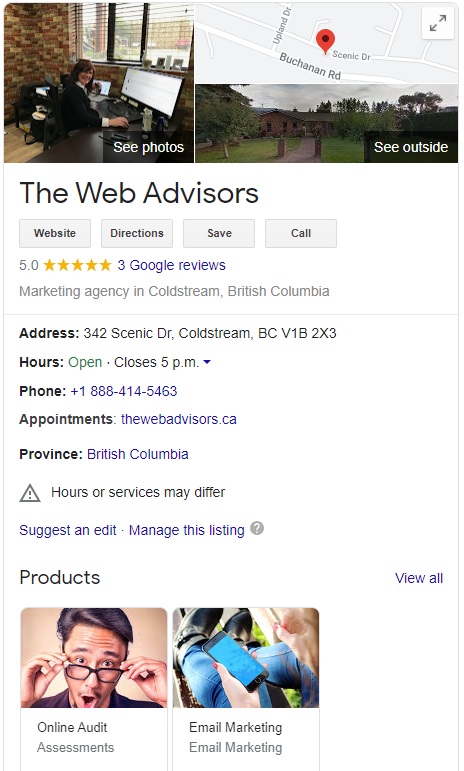 Add an impressive description (up to 750-character) making sure it is not just a sales pitch.
Be sure to upload your logo, an eye-catching cover photo & additional appealing photos & video.
Connect to your business safety plan as well as your catalogue if you have one.
Consider adding your top 3-5 FAQ (Frequently Asked Questions) – Ask & Answer in the Questions and Answers section.
Post weekly to showcase what is going on with your business with imagery/video and a caption and incorporate Calls to Action to have people book reservations or visit your website for more information.
Investigate additional features that apply to your industry and make use of them.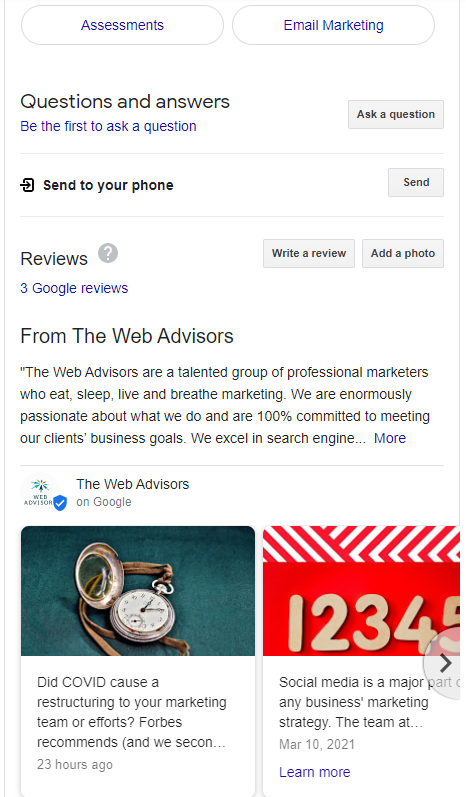 Generate & Respond to Reviews
It is good to respond to both the positive and negative reviews you receive. Responding to negative reviews shows that you care and are taking steps to improve (plus it factors into Google's search algorithms). To make things easier, consider downloading the Google My Business App (Android / iOS) for easy, immediate responses on the go.
On Desktops
On your computer, sign in to Google My Business.

If you have multiple locations, open the location you want to manage.

In the left menu, click Home.
In the "Get more reviews" card, you can copy your short URL to share with customers.
On Mobile Devices
On your mobile device, open the Google My Business app My Business.

If you have multiple locations, open the location you want to manage.

Tap Customers and then Reviews.
In the top right, tap Share.

If you haven't created a short name, you'll be prompted to make one.

Copy your short URL to share with customers.
A reminder that while it might be tempting to offer incentives to get more reviews on your Google My Business profile, it is against Google's Prohibited Content policies to do so. Read Text Reviews and Captions.
Specifically:
Don't use reviews for advertising purposes. This includes, but is not limited to, posting email addresses, phone numbers, social media links or links to other websites in your reviews.
Don't discourage or prohibit negative reviews or selectively solicit positive reviews from customers.
Don't include promotional or commercial content.
Don't offer or accept money in exchange for reviews.
Don't solicit reviews from customers in bulk.
Monitor your Analytics and Insights
Monitoring your Google My Business listing insights is a great way to unveil user interaction with your listing. Would you like to know exactly what Google My Business sends your way? Consider adding UTM tracking to the website URL and to all posts to be able to distinguish Google My Business traffic from other organic results in your Google Analytics reports:
Example website URLs with UTM: https://yourdomain.com/utm_source=google&utm_medium=organic&utm_campaign=GMB
Post example: https://yourdomain.com/?utm_source=google&utm_medium=organic&utm_content=UPDATETHIS&utm_campaign=GMBpost
Did you know you can also use phone number tracking, using tools like Callrail or the like?
So what are you waiting for? Follow the steps above to get your Google My Business listing up to snuff in no time. Of course, if you need assistance, we're only a quick call or email away.
Be sure to check out our blogs on How to Optimize Your Bing Places for Business Listing and 10 Tourism Marketing Tips for Small Business for Under $5000 A Year for more great tips.