Facebook changes promotions to make it easier to create and administer contests and promotions without requiring the use of third party apps. This is big news for small business on Facebook as there are now a few additional ways to collect contest entries.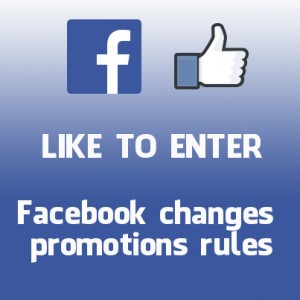 As outlined on the Facebook for Business blog, promotions can be administered on Page Timelines and in apps on Facebook. There are three additional approved ways to gather entries. Businesses can now:
Collect entries by having users post on the Page or comment/like a Page post
Collect entries by having users message the Page
Utilize likes as a voting mechanism
Rules Of The Game
Facebook is still very clear that businesses cannot administer promotions on personal Timelines, meaning you cannot request people share on their own wall for additional entries. It is also taboo to ask people to tag themselves in pictures of a new product in exchange for a contest entry.
How Small Businesses Benefit
So what does this mean for businesses using Facebook? Small businesses on Facebook can now legally use promotions to raise product awareness and can now Boost that post as a contest, to amplify their reach, without having to go to the time and expense of the setting up a dedicated promotions app. By loosening contest restrictions, any page admin can now create contests making their boost only limited by budget, which for larger brands may present opportunities to reward fans for engaging on any and every post.
Finally, do the new Facebook promotions changes spell the end for Promotions Apps like Wishpond, WooBox or others? Hardly. A strong social media strategy that encourages the collection of opt-in data can still only be done through apps at this stage. Organizations that want to extend their marketing efforts beyond the reach of Facebook will be wise to engage using both strategies moving forward.
So what do you think? Will you never use a promotions app again? Going to go hog wild with Facebook contests in your feed now?