So you're recovering from the gluttonous holidays where you maybe imbibed in a few too many beverages, lots of incredible food and now you're thinking about that New Year's resolution you just made to yourself about getting in shape? This is the perfect opportunity to apply that same resolution to your business marketing efforts, starting with getting your email marketing in shape.
Use the Right Service
We find ourselves saying this over and over, but it bears repeating. Don't ever send your email marketing campaigns through your business email account. While it may seem like an easy process to send a message from your Gmail or Outlook account to all your contacts, it is the quickest way to get your domain flagged by your ISP and you may be prevented from sending those other important emails in the future.
Use a dedicated email marketing service like those offered by providers like MailChimp, VerticalResponse, iContact, ExactTarget, Constant Contact and so many more. Each service has its pros and cons related to costs, reporting, available templates and more. We've taken the time to compare those to make your selection of the right service much easier – see our page on email marketing services.

Grow Your List Properly
Before you send your amazing offer about that new service or product you just launched, make sure you have people to send it to and that they want to receive your email. Email overload is a fact of life for everyone and you don't want to be one of those businesses that "breaks the camel's back" and you get the dreaded Spam report.
People subscribe to email newsletters for 1 of two reasons:
Reason 1 – I'm going to get a better deal on the products you offer.
Reason 2 – I'm going to receive great information that I can use in my personal/professional life.
Part of growing your own distribution network is to make it really easy for people to signup for your newsletter and that they go through a double opt-in process. The double opt-in will ensure you comply to the CAN-SPAM laws in place and reduce your chances for being mistakenly reported for Spam. Additionally, many of the email service providers offer the option to add buttons to your Facebook page to acquire new followers as well as options to get the opt-in form on your website.
Make Your Email Marketing Look Good!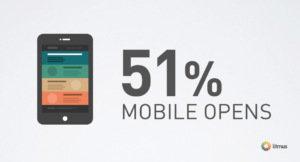 It's unlikely this is news to you, however if your email doesn't display correctly, or is hard to read on a smartphone, then it probably will not be opened or the links within clicked on. Ensure your email can be viewed on mobile devices.
A recent report by Litmus indicates that over half (51%) of all email opens occur on mobile devices. What's so important is that this number continues to climb every month and just makes it that much more critical to ensure your email is readable and looks good on mobile devices.
How does one do that? There are some basics – make your maximum email width under 600 pixels, make images big and "thumb friendly" and if you can and your preferred email service offers it, use a responsive design.
Create Compelling Content
At the end of the day, once you have your database setup, lists segmented, your design looks beautiful and is optimized for mobile viewing, it's the content that will drive the results. It's the reason why your reader has given you permission to send your email message to them, they want to hear what you have to say.
When your email hits then inbox, it's the subject line that encourages the decision to open or delete. You have at most three seconds to make your email stand out. Ensure your subject line reflects the content within the email and that it demonstrates value to the reader. If you want to really increase the open rates – incentive your readers. It may be a discount, free product or insight into how they can do something better.
The Follow Through
If you've done everything right so far, your reader is looking at your email, has found some valuable tidbit of information and clicks on the link to your website. VICTORY! Or is it? Here's what many people forget to check, does the content on your website match what you just told them in the email or are you sending them to your homepage. If you've got a special offer, ensure your sending to an optimized landing page, that way you can really track the results and you are more likely to see the desired behavior.
Do you need some help in setting up your email marketing efforts? We offer services from setup to complete management including setup, content generation, distribution and reporting.